Entertainment
Genuinely scary Horror films you MUST watch this Halloween
By
|
The Conjuring (2013)
Directed by James Wan, the Perron family move to an old farmhouse in Rhode Island, they quickly start to experience spooky goings on, but instead of leaving the house (like every viewer would repeatedly tell them to do). Famous paranormal investigators Ed and Lorraine Warren are called to help the family, they soon discover the house is possessed by an evil spirit, more specifically a witch who sacrificed her newly born baby to Satan and posseses mothers who move into the farmhouse to kill their own children.
The Conjuring 2 (2016)
Ed and Lorraine Warren are called to London to investigate what will become their most famous and documented case yet. Single mother Peggy Hodgson believes her house is plagued by an evil spirit after her daughter claims to be possessed by the spirit of an old man. Ed and Lorraine document all the mysterious events and occurrences to determine whether the haunting is in fact a hoax planned by the family.
Last Shift (2014)
A rookie cop's 1st shift in the last night of a closing police station alone turns into a living nightmare.
Sinister (2013)

Crime writer Ellison Oswalt moves himself and his family into a new house where a gruesome crime has taken place. He begins to research the history of the horrific crime for his new book. After discovering a box of home movies he brings himself and his family into their own nightmare.
Hush (2016)
A very tense horror thriller directed by Mike Flanagan. A deaf writer who has moved into the woods to seek a solitary life must fight for her life when a masked intruder breaks into her home.
The Witch (2015)
Set in 1630 William and Katherine lead a devout christian lifestyle with their five children, after their crops fail and newborn son suddenly vanishes the family start to unravel and their own sins leave them to become prey for evil.
The Orphanage (2007)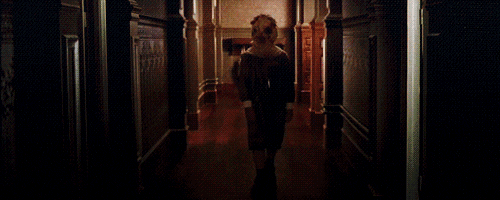 Laura a former orphan and her husband raise their adopted son in an former orphanage where she grew up. Simón tells his mother that he has five imaginary  friends within the house, she ignores her sons claim believing its from her sons imagination. Laura decides to reopen the orphanage to cater for disabled children.  Simón then disappears after trying to tell his mother to come see his imaginary friend's cabin.  Laura begins to feel the presence of others within the building and invites a paranormal team to help investigate.